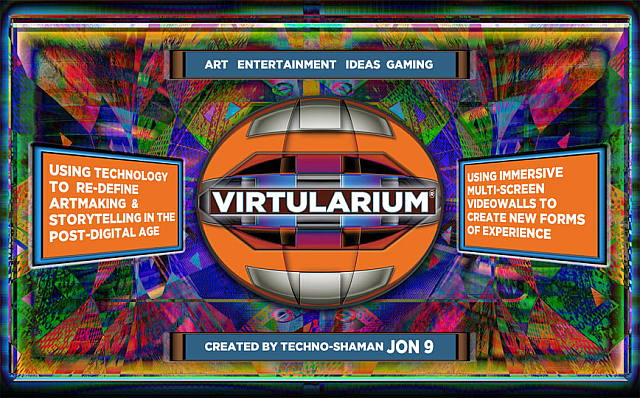 VIRTULARIUM VIDEOWALL GALLERY
VIRTULARIUM®
Digital Videowall Gallery
presents a Group Exhibition of videowall art
exploring the creative intersection
of art and technology
"3 BY 3"
3 new videowall artworks by 3 ARTISTS:
Jon9, Jason Jenn, Vojislav Radovanovic
3 digital artists exploring the use of complex multi‐screen display systems
to create new forms of digital experience…

Participating Gallery in the
EL SEGUNDO ART WALK
(elsegundoartwalk.com)

---
"3 BY 3"
3 new videowall artworks by 3 ARTISTS:
JON 9
"UNTITLED, #9"
Generative, real‐time digital artwork
Exploring the use of energy and information to create video harmonics: a tapestry of light and meaning.
(24 SCREENS/ 47.9 MILLION PIXELS)
"SERMON AT THE CATHEDRAL OF THE FREEWAYS"
A dialogue exploring man, machine, architecture, form, and function –revisioning the utilitarian use of freeways as sacred temples.
(18 SCREENS, 37.3 MILLION PIXELS)
"TRAVELERS"
Exploring the concept of travel, claims of territory, immigration, and plants among some of Los Angeles' most cinematic cityscapes.
(9 SCREENS, 18.6 MILLION PIXELS)
Located on Penn Street in the Smoky Hollow District of El Segundo, the VIRTULARIUM® VIDEOWALL GALLERY is unique: it features 67 digital displays in four videowall configurations with advanced mega‐high resolution media servers that create an immersive experiential media environment. The artists at VIRTULARIUM® have developed a unique toolbox of powerful control systems that enable the creative manipulation of these complex systems to deliver new forms of digital experience.
AUG 16
05:00PM-09:00PM




VIRTULARIUM VIDEOWALL GALLERY